Hot product
5 - Star (M)

5-Star(M) is an exclusive hard solution for CR-39 and middle-refraction,
and it has over 7.0 Bayer ratio. Its main solvent is the water and is noninflammable,
not harmful to the human body, and eco-friendly.
Additionally, it has a long lifespan and can save the logistics cost,
and you can store it in the room temperature.
Its use of noninflammable and noncombustible solvent helps to maintain consistent coating quality.




Patent Technology

5-Star(M) is the innovative hard solution which has five characteristics
that were not seen is Sol-Gel hard solution so far.
Its main solvent is the water, and it is considered as the general goods when exporting,
letting you save the logistics cost.
Since it is not a dangerous article, you can use this hard solution easily and safely.


Product performance

5-Star(M), being developed based on the cutting-edge technology of DON R&D team,
has over 7.0 Bayer ration, and it can withstand over 600 times of Steel Wool abrasion test with a 1.0kg load.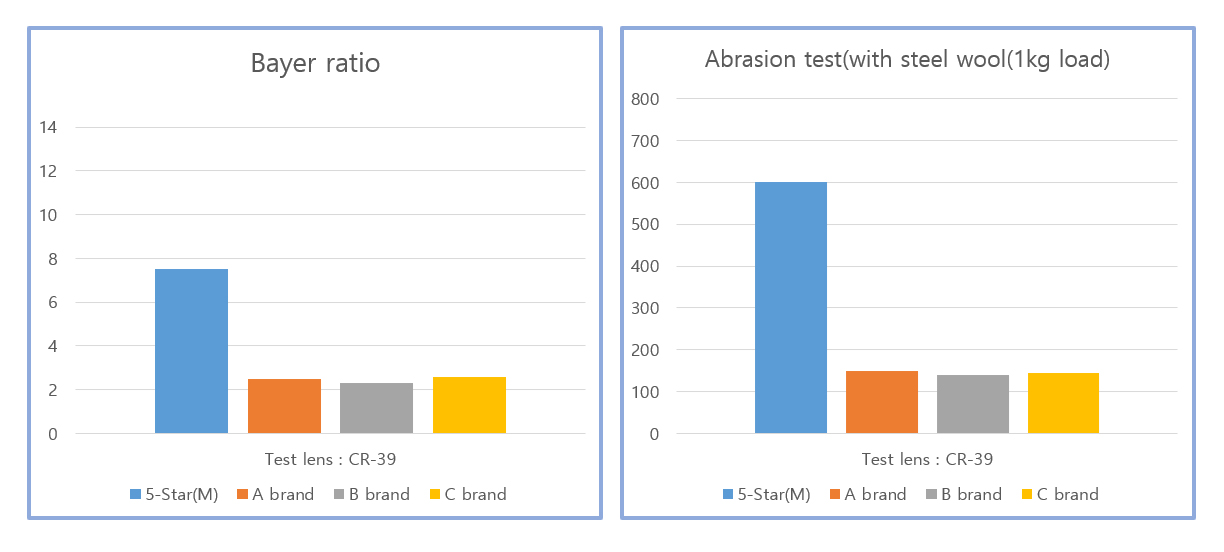 ◆ Applied condition ◆
Coating Method
Dip coating
Coating Condition
Drawing Speed: 40~50 seconds for 75mm lens
Cabinet Temperature : 15~20˚C(Celsius)
Relative Humidity : Less than 40%
Coating Solution Temperature : 10~15˚
Pre cure
Over 80˚C, over 10 minutes
Post cure
Over 110˚C, over 120 minutes
Supplement of the Coating Solution
Maintain the specific gravity at 1.070 in 10˚C by inserting DI-Water in the circulating coating solution and supplementing 5-star(M) concentrate.
◆ Product Property ◆
Name
5-Star(M)
Appearance
Half-transparent liquid
Specific Gravity (10˚C)
1.060 ~ 1.080
Viscocity
(csp, Brookfield, 10˚)
7.0 ~ 8.0
Solid
31±1%.
PH(10˚)
4.0 ~ 5.0
◆ Coat-layer Characteristics ◆
| Item | Test Method | 5-Star (M) |
| --- | --- | --- |
| Penetration Ratio | 550nm, 2.5μm thickness | >95% |
| Refractive Index | Ellipsometry(589nm) | 1.52 |
| Adhesion | ASTM D3359 | 5B |
| Pencil Hardness | ASTM D3363 | 8H |
| Scratch Durability | Steel Wool #0000, 1.0kg, 600cycles | No Visual Scratch |
| Hot Water Test | 90 - 95C, 30min | NO Damage |